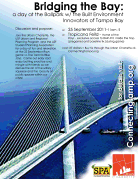 Join the Urban Charrette, the USF Urban and Regional Planning Program and the USF Student Planning Association for a day of fun and relaxation at the 25 September Rays game vs. the Toronto Blue Jays. Come out early and enjoy batting practice and mingle with friends as we discuss the art of the safety squeeze and the beauty of public spaces within our cities!
Who should come?
Anyone who loves baseball, enjoys cities, and wants to live in a more connected region. We are inviting friends of the Urban Charrette, professional organizations such as the APA, the AIA, ULI and others, The USF Geography Dept. , School of Architecture and involved citizen's of our region. So In other words, YOU.
Ticket information:
The Tampa Bay Rays have offered us the Baseline BOX and exclusive access to BAR 410 before the Game. Join us early to watch Batting practice and congregate with fellow Urban Design Innovators. Tickets are $27 dollars and include access to Bar 410 (an outfield Bar with a view of the stadium) and Baseline Box seats.
Click this link to purchase Tickets through the Urban Charrette PayPal portal. (You must purchase your tickets through this link to ensure access to Bar 410 and the reserved group seats).
Purchase Tickets here: https://www.paypal.com/cgi-bin/webscr?cmd=_s-xclick&hosted_button_id=2YAGR5YCWP5EU
You will receive Email confirmation from the Urban Charrette and your tickets will be available for pick up at will call prior to the Game.